A brain constitutes the logic of your virtual assistant. It contains all the necessary information, that allow Moveo to use its NLP engine, in order to engage in a natural conversation with the end user.
More specifically a brain contains the following:
A brain also contains its Settings menu, in which you can configure settings like Auto AI, disambiguation, the confidence threshold and the inactivity timeout, the number of seconds before the brain loses any contextual information saved during the conversation with the user.
Create a new brain
Click on the ⚡ Brains icon on the top menu.
Click + Create new brain.
Come up with a name, description and language.
Select Start from scratch, or pick one of the available templates.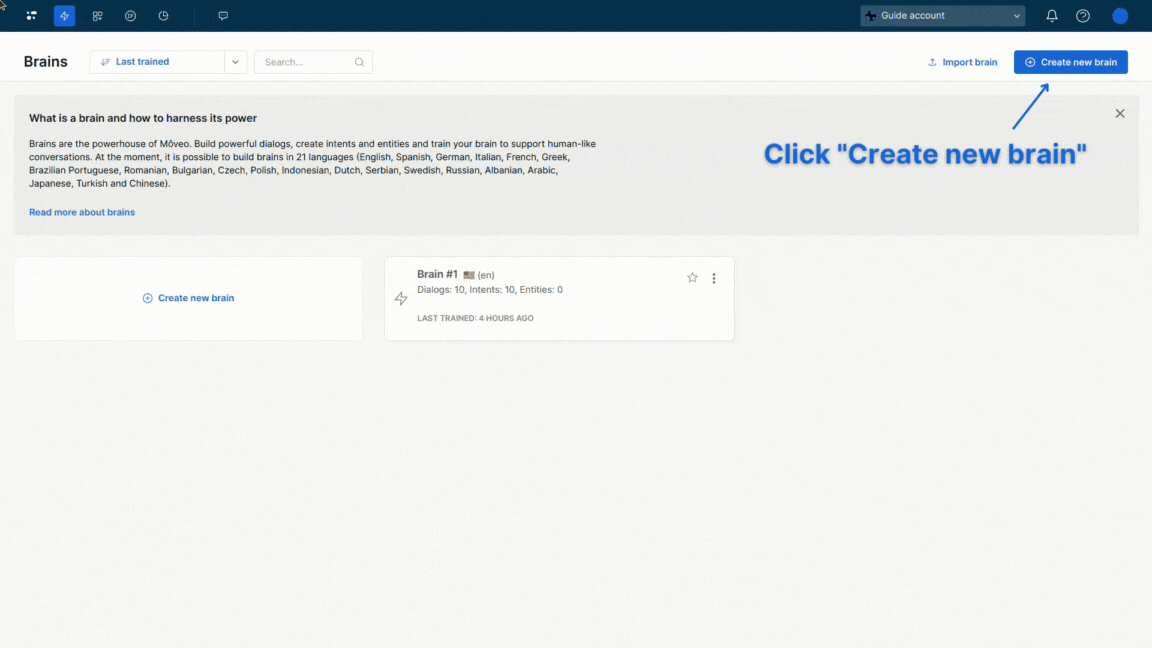 You can also import an already exported brain by clicking on Import brain. In this menu you can drag and drop your brain, in the form of a JSON file.
note
By selecting Start from scratch, a default brain with frequently used intents and dialogs is loaded. You have the option to remove any of the included intents and dialogs to customize the brain according to your needs.
Try out your brain
You can try out your brain by using its Test function. More on that can be found in the relevant section.
Export a brain
Click on the ⚡ Brains icon on the top menu.
Click on the three dots (⋮) icon, on the right side of the brain you want to export.
note
The exported brain will be a JSON file.