Intercom has partnered with Môveo.AI to add a new agent to the customer support team, a smart AI virtual assistant! You can integrate your assistant with an Intercom application to enable the app to seamlessly pass user conversations between your assistant and human agents.
If you integrate your environment with Intercom, all interactions with users are initiated through and managed by Intercom.
Watch the video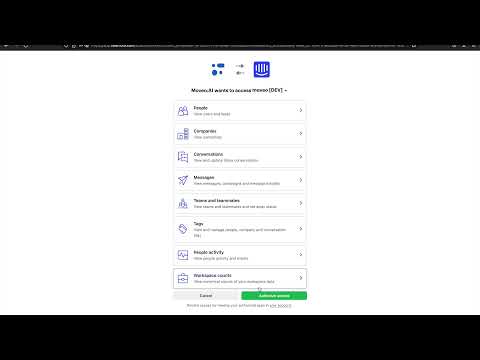 Intercom related steps
Create a functional email account for your assistant. Each assistant must have a valid, unique email address before it can be added to a team in Intercom.

From your Intercom workspace, add the assistant to your team as a new agent.

Go to the teammate settings page in your Intercom workspace, invite the assistant as a new agent by adding the email you created in the previous step to the invite field.

From the assistant email account you created earlier, find the invitation from Intercom. Click the link in the email to join the team. Sign up using the assistant's functional email address, and then join the team.

Optional: Update the profile for your assistant.

You can edit the name and profile picture for your assistant. This profile represents the assistant in private agent communications within your workspace, and in public interactions with customers through your Intercom apps. Create a profile that reflects your brand.
Môveo related steps
Create a brain, which hands the end user over to a human agent. You could also use the Handover to human agent brain template!
Create an environment and connect the above brain to it.
Add an Intercom Integration by redirecting to Intercom.
important
In your Intercom app, you need to log in from the account of your assistant.
Test your integration
The final step is to create an outbound Intercom Custom Bot that assigns your assistant from Intercom. Whenever the assistant is assigned, it will respond to the message from the end user!
In a handover case, your assistant will transfer the conversation to the Unassigned Inbox, in order for other human agents to take over the conversation.